7400,74LS,74HC,74C and 4000 series Logic IC Tester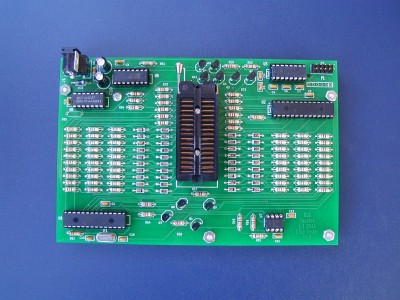 Features:
Tests most common 7400 series parts, some 4000 series parts, and a few SRAM chips
Analog pin voltage measurement provides more information than simple logic test
Input short or leakage test
Interfaces to terminal or terminal emulator program via RS-232 (ribbon serial cable not shown)
Auto-baud detect
This picture shows how a 7448 chip test looks on a PC terminal emulator program: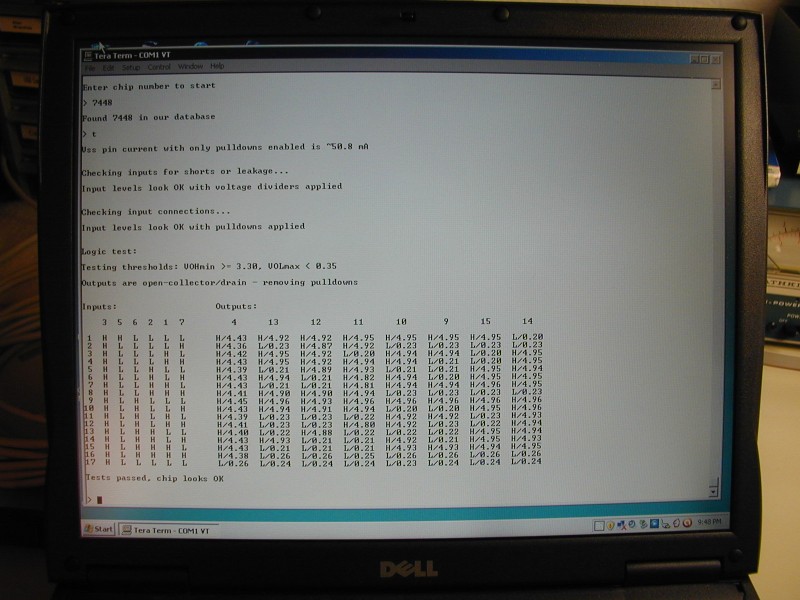 Price (not including small per-order S&H fee):
LogICTester Bare Bones Kit - $31.95 Kit includes blank PC board and two programmed PIC microcontroller chips. Other components are standard parts which can be obtained from several sources (see parts list). A 9VDC AC adaptor is also needed. PC board dimensions: 6.375" x 4.25". Before ordering, please download LogICtester user manual, LogICtester assembly instructions, LogICtester schematic diagram, LogICtester parts list, and LogICtester component placement guide. Here is a list of supported devices.
Note: All additional parts needed to populate the pc board, can be purchased at www.DigiKey.com. Some parts are also available at www.Jameco.com and www.Mouser.com.
DISCLAIMER: I take no responsibility whatsoever for the use and/or implementation thereof, or the misuse leading to damage to equipment, property, or life, caused by the above circuits.